Using Marketing to Create Barriers to Entry (Lesson 2)
Series: 4 Marketing Lessons from a Trip to Italy (Part 2 of 4)
How the Real World can Teach You About Marketing
Yesterday, I discussed the need to Be Where Your Customers Are and learned that having a presence where your customers hang out can really pay off. Of course, it helps if your competition is absent, but that's only going to get you so far. In the following post, I discuss how being where your competition isn't allows you to create barriers to entry to keep your competition out (or at least slow them down).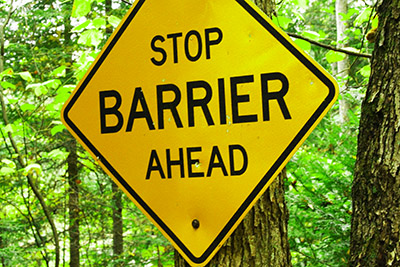 Btw, if you've missed my first post in the series, or want a look at what's coming next, here's a list.
Lesson 2: Using Marketing to Create Barriers to Entry (This One)
Lesson 2: Using Marketing to Create Barriers to Entry
Discovering Your First Mover Advantage
Yesterday, I introduced you to Michele Lazzarotto, owner of Lavarre Tutto in Milan, Italy. Like all business owners, Michele has competition for his business. Fortunately, Michele's competition is barely online. As a result, Michele is benefitting from the first mover advantage. He's the first cleaning service in Milan, Italy to aggressively use the Internet for marketing, and he's getting a lot of new customers. But Michele knows that his competitors are coming and he's preparing for it by creating barriers to entry.
Creating Barriers to Entry
Michele is leveraging his first mover advantage, but he knows that this is only going to get him so far. Sooner or later the competition is going to catch up and even now, those who didn't have their own websites are launching them. In order to stay ahead, Michele is creating multiple barriers to entry for them by expanding his online marketing in the following ways:
Barrier 1:
While most of his competitors only have simple websites, Michele is working on a more advanced site that will incorporate various social media features (see Barrier 3 below), but that's only the beginning.
Barrier 2:
Michele is actively managing a Google keyword campaign which is driving new customers to his website. His competitors aren't using Google yet and when they do they'll have a serious barrier to contend with; an established campaign being run by a savvy marketer, and Michele isn't stopping there.
Barrier 3:
As mentioned yesterday, Michele has moved aggressively into social media. He's starting to write a blog that he'll incorporate into his website and he's on most of the major social media sites. Michele is using social media because he knows that this is where he can build deep relationships with his customers and those relationships will help him in four ways:
He'll be their first choice when they need his services.
His online "friends" will recommend him to their friends.
His customers won't be easily swayed to go to the competition.
He'll establish relationship with clients before his competition does.
Barrier 4:
Michele is leveraging a differentiating factor that will help him stand out from the competition. That factor is an Ultrasonic Cleaning System (shameless plug: they're manufactured by my wife's company, Morantz Ultrasonics). Ultrasonics gives Michele a definitive edge against his competitors, but more importantly, he's spreading the word about these capabilities and growing his business.
Key Takeaways
Establish relationships with clients before your competition does.
Figure out ways your competition is failing to help prospective customers and fill that gap (and talk about it in your marketing!).
Look at what your competition is not doing and do it first (more on this Thursday).
Be aggressive, because if you don't, your competition will.
What do you think? Please leave a comment and let us know.
Need help creating barriers to entry, setting up and managing your online marketing or social media presence? Please don't hesitate to contact me. I can help.
Don't miss tomorrow's lesson or the rest of the posts from this series: