How My Fridge Manages My Milk Subscription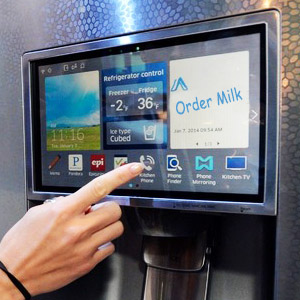 A fascinating post on Mashable called, "Advertising's Next Frontier: The Internet of Everything," talks about the opportunities and potential for advertisers on the emerging "Internet of Things" (or, IoT).
For those who don't know, the IoT any object from your shirt to your refrigerator all being connected on the Internet. For some people this sounds ridiculous, but it's actually a new world of interconnectedness that has the potential to create tremendous opportunities.
While this doesn't mean you're shirt's going to tweet that it needs to be washed or have it's own Facebook Page (or maybe it will), it does mean that potentially, everything around you could be connected in strange, new and exciting ways.
What Did My Fridge Just Say?
As an example, consider the following. Let's say you have a "Smart Fridge." It's a refrigerator that has a small built-in computer, an interface (probably a touch screen) and an Internet connection (probably via Wi-Fi). You put a gallon of milk inside. This is what could happen:
Logging In: You either scan the milk with a build-in barcode reader or the fridge automatically reads an RFID tag that's somewhere on the milk's packaging.
Inventory Control: The fridge searches an online product database and identifies that the product is a gallon of milk purchased from a particular store. Depending on the RFID tag, it might know precisely what store you bought it from and even what shelf in the store's refrigerators it was on.
Tracking: As you consume the milk, the package get's lighter. Scales built into the shelf detect the change in weight, but there's a catch; how does the fridge know you're drinking the milk and not the soda? Via RFID and little motion sensors built into the milk's packaging, the fridge, or both, the package might notice that it's being moved, or the fridge might actually see it being moved. Not only that, your fridge also knows how often you drink the milk, and when.
Subscribing to Milk: As you consume your tasty and nutritious beverage, if you haven't already programmed a preset, your fridge could flash a message to you on the screen, "You're running low on milk. Shall I order more?" You're fridge could then contact the grocer where you bought the milk and order a replacement for you! Of course, your grocer could also send you an email, tweet, etc., saying, "I saw you're low on milk. Want more? Here's a coupon."
Do Your Pants Know Where You Are?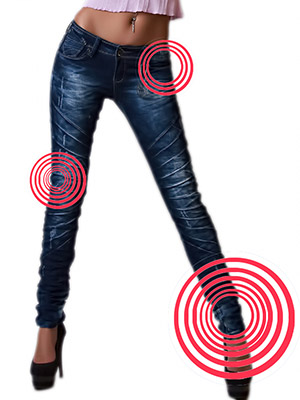 Several years ago I proposed a marketing program to a major clothing manufacturer. The plan was to place RFID tags in clothing. When the wearer passes a kiosk in a mall, the kiosk would see the RFID tag. It would then contact the wearer by flashing a message on its screen, sending a text message, etc. The message was supposed to include clothing suggestions, coupons or other offers.
I also suggested that it would also be a great way to start a conversation about privacy with the brand front and center. After all, the brand had a reputation as risk takers. They could be all over the news and yes, they were going to go to great lengths to protect their customer's privacy.
The clothing designers and marketing department loved the idea; the Legal Department? Not so much. They killed it on, guess what? Privacy concerns.
Risk vs. Opportunity?
It's not my intent to start a discussion on the dangers of the IoT. Abuse can happen anywhere. I just wanted to point out it's amazing marketing potential.
Cool, huh?
What do you think? Please leave me a Comment (below), or share this post.